« zurück zur Übersicht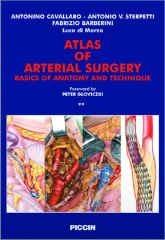 Cavallaro, Antonino; V.Sterpetti, Antonio; Barberini, Fabrizio:


Atlas of Arterial Surgery

Basics of Anatomy and Technique

Preis: 349,99 Euro
Auflage: 1., Auflage
Verlag: Schattauer
Erscheinungsdatum: 02/2012
Seiten: 786 S.
Abbildungen: 2 Volume-SET

ISBN-10: 3-7945-4033-6
ISBN-13: 978-3-7945-4033-4

» In den Warenkorb
Weitere Fachbücher aus dem Fachgebiet:
Beschreibung
This attractive Atlas, compiled by the talented and enthusiastic Italian surgeons Antonino Cavallaro and Antonio V. Sterpetti from the school of Professor Sergio Stipa, and by the anatomist Fabrizio Barberini, all from the ?Sapienza? University of Roma, presents the full spectrum of arterial surgery as it is practiced today: from basic vascular surgery techniques and simple or complex open surgical reconstructions to endovascular and hybrid arterial and aortic procedures.The authors have been aided by expert contributions from an international group of 76 surgeons from nine countries of the world: a successful multi-national venture of excellence in vascular surgery. The technical details of the interventions are beautifully illustrated by Bernard Luraschi, and the large number of intraoperative colored photographed images are masterfully enhanced by computer to provide fine technical details and the exact underlying surgical anatomy. These, together with a well written text, provide essential information on vascular surgical procedures not only for vascular trainees but also for the young and the more experienced vascular surgeons.To quote Charles H. Mayo, a master surgeon of exceptional technical skills, this atlas is ?not for those filled with principles, or the why, but for those still interested in technique, or the how.?
Vorteile
The authors have been aided by expert contributions from an international group of 76 surgeons from nine countries of the world: a successful multi-national venture of excellence in vascular surgery.

The technical details of the interventions are beautifully illustrated by Bernard Luraschi, and the large number of intraoperative colored photographed images are masterfully enhanced by computer to provide fine technical details and the exact underlying surgical anatomy.

These, together with a well written text, provide essential information on vascular surgical procedures not only for vascular trainees but also for the young and the more experienced vascular surgeons.

To quote Charles H. Mayo, a master surgeon of exceptional technical skills, this atlas is "not for those filled with principles, or the why, but for those still interested in technique, or the how."