« zurück zur Übersicht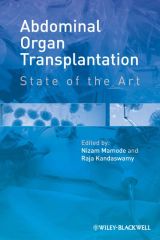 Mamode, Nizam; Kandaswamy, Raja:


Abdominal Organ Transplantation

State of the Art

Preis: 97,90 Euro
Auflage: 1. Auflage
Verlag: John Wiley & Sons
Erscheinungsdatum: 01/2013
Seiten: 240 pp.

ISBN-10: 1-4443-3432-8
ISBN-13: 978-1-4443-3432-6

» In den Warenkorb
Weitere Fachbücher aus dem Fachgebiet:
Beschreibung
This book summarizes the latest developments in key areas of the fast moving field of abdominal organ transplantation. It covers such vital topics as living donation (both renal and liver), laparoscopic and robotic techniques, islet and pancreas transplantation, non-heart beating transplantation, blood group incompatible and highly sensitized transplantation, high risk transplants, tolerance, stem cell therapy and novel immunosuppressive techniques. Each chapter offers an overview of the available evidence by a world renowned expert, written in an accessible, easy-to-read manner.
Inhalt
List of contributors
Foreword
1 Living donation: the gold standard
Leonardo V. Riella and Anil Chandraker
2 New Surgical techniques in transplantation
Adam D. Barlow and Michael L. Nicholson
3 Living donor liver transplantation
Abhideep Chaudhary and Abhinav Humar
4 Antibody incompatible transplantation
Nizam Mamode
5 New Developments in Pancreas Transplantation
Rajinder Singh, David E.R. Sutherland and Raja Kandaswamy
6 Islet Cell Transplantation
Paul R. V. Johnson and Maciej Juszscak
7 Novel cell therapies in transplantation
Paul G. Shiels, Karen S. Stevenson, Marc Gingell Littlejohn and Marc Clancy
8 Intestinal Transplantation
Khalid M. Khan, Tun Jie, Chirag S. Desai, Rainer W.G. Gruessner
9 Paediatric Renal transplantation
Stephen D. Marks
10 Immunosuppressive Pharmacotherapy
Steven Gabardi and Anil Chandraker
11 Conclusion
Nizam Mamode and Raja Kandaswamy
Index
Vorteile
- erstes Fachbuch zu abdominalen Transplantationen, das sich an angehende Transplantationschirurgen und das Transplantationsteam richtet
- konzentriert sich auf die jüngsten Techniken und Verfahren in den wesentlichen Transplantationsbereichen
- erläutert evidenzbasiert empfohlene Ansätze
- Autoren gehören u. a. führenden Transplantationszentren an