« zurück zur Übersicht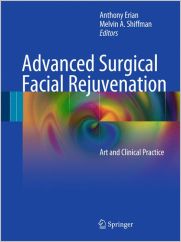 Erian, Anthony; Shiffman, Melvin A.:


Advanced Surgical Facial Rejuvenation

Art and Clinical Practice

Preis: 255,73 Euro
Auflage: 1st Edition.
Verlag: Springer-Verlag Berlin Heidelberg
Erscheinungsdatum: 2012
Seiten: 740 pp.
Abbildungen: 653 ills. -620 in col.

ISBN-10: 3-642-17837-5
ISBN-13: 978-3-642-17837-5

» In den Warenkorb
Weitere Fachbücher aus dem Fachgebiet:
Beschreibung
This richly illustrated book covers all aspects of aesthetic facial surgery, from anatomy to the variety of procedures employed in facial surgery, including ancillary techniques such as chemical peel, laser, and facial fillers. Both newer techniques and variations on older approaches are carefully presented and discussed. In addition, preoperative care is analyzed, and detailed attention is devoted to problems related to HIV infection, anesthesia, complications, and psychological aspects. The contributors are all internationally acclaimed experts in the field. The book will be an invaluable source of information for residents and fellows, practicing aesthetic surgeons, and surgeons in a variety of related fields.
Inhalt
From the contents:.- PART I: ANATOMY.- PART II: ANESTHESIA.- PART III: PREOPERATIVE AND POSTOPERATIVE.- PART IV: PSYCHOLOGICAL ASPECTS.- PART V: TECHNIQUES.- Hair Transplantation.- Ablative Laser Facial Resurfacing.- Photorejuvenation.- Superficial And Medium Peel.- Deep Phenol Peel.- Facial Implants.- Injectable Facial Fillers.- Submentoplasty And Facial Liposuction.- Bio-Lifting And Bio-Resurfacing.- Personal Technique Of Doing Office Facial Surgery.- Design And Management Of The Anterior Hairline .- Temporal Incision And Skin Take Out In The Vertical Facelift And Lateral Brow Lift Procedures.- Short Scar Facelift With Extended SMAS/Platysma Dissection And Limited Skin Undermining High SMAS Facelift Combined Single Flap Lift Of Jawline, Cheek, And Mid Face.- Extent Of SMAS Advancement In Facelift With Or Without Zygomaticus Major Muscle Release.- A Safe Facelift Using Bony Anatomic Landmarks To Elevate The SMAS.- Deep Plane Facelift.- Endoscopic Forehead Lift.- Minimally Invasive Ciliary-Frontoplasty. Index