« zurück zur Übersicht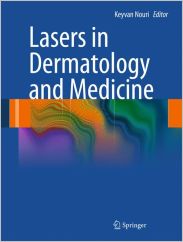 Nouri, Keyvan:


Lasers in Dermatology and Medicine

Preis: 213,95 Euro
Auflage: 1st Edition.
Verlag: Springer-Verlag London
Erscheinungsdatum: 2012
Seiten: 611 pp.
Abbildungen: 310 illus., 287 in color

ISBN-10: 0-85729-280-3
ISBN-13: 978-0-85729-280-3

» In den Warenkorb
Weitere Fachbücher aus dem Fachgebiet:
Beschreibung
Laser technology is constantly evolving and progressing. The use of laser therapy is vastly expanding and for this reason a medical book of this magnitude is necessary. Lasers and Light Therapy includes an up-to-date comprehensive look at lasers and light therapy not only in the field of Cutaneous Laser Surgery, but in other medical specialties as well.
Inhalt
Section I: Fundamentals of LASER:Laser/Basic Physics of Laser & Laser-Tissue Interactions.-Laser Safety.-Section II: Cutaneous Laser Surgery:Vascular Lesions.-Scars.-Leg Veins.-Pigmented Lesions.-Tattoos.-Hair Removal.-Skin Resurfacing.-Fractional Resurfacing.-Sub-Surfacing Lasers.-Non-Ablative Radiofrequency Devices.-Acne.-Psoriasis, Hypopigmentation & Repigmentation.-Lipolysis/Cellulite.-Intense Pulse Light.-Photodynamic Therapy.-Light Emitted Diodes (LED).-Section III: Miscellaneous: Wound Healing & Wound Care for Laser Treatment.-Wound Stimulation, Keratinocytes, Fibroblasts, Stem Cells, Melanocytes, & Hair Growth.-Skin Cancer.-Ethnic Skin.-Children.-Cooling Systems.-Selection & Education Patients.-Anesthesia.-Complications.-Ethical Issues.-Medicolegal Issues.-Psychological Issues.-Research & Future Direction: SECTION IV: Laser for Other Medical Areas:Ophthalmology.-Dental Procedures.-Otolaryngology (ENT).-Gynecology.-General Surgery.-Urology.-Gastroenterology.-Orthopedic Medicine.-Thoracic Medicine.
Vorteile
---Includes the most up-to-date information on laser therapy
--- Comprehensive textbook for all fields of medicine that use laser therapy
---Chapters written by experienced physicians
---Colorful and easy to read, with numerous pictures
---Features overview and summary boxes listing the key points of each chapter