« zurück zur Übersicht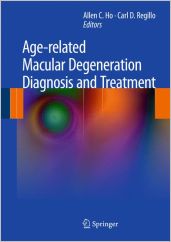 Ho, Allen C.; Regillo, Carl D.:


Age-related Macular Degeneration Diagnosis and Treatment

Preis: 90,94 Euro
Auflage: 1st Edition.
Verlag: Springer-Verlag New York
Erscheinungsdatum: 2011
Seiten: 148 pp.
Abbildungen: 48 ills. -41 in col.

ISBN-10: 1-4614-0124-0
ISBN-13: 978-1-4614-0124-7

» In den Warenkorb
Weitere Fachbücher aus dem Fachgebiet:
Beschreibung
Age-Related Macular Degeneration: Diagnosis and Treatment is written by two leading experts from Wills Eye Hospital. Covering the latest therapies and treatments developed in the last few years, this is a concise yet highly illustrated and practical text that guides the clinician through diagnosis and treatment of the leading cause of blindness in older Americans.
Vorteile
Written by leading authorities in the field

· Concise yet highly illustrated and practical text that guides the clinician through diagnosis and treatment of the leading cause of blindness in older Americans

· Covers diagnosis and treatment options for both neovascular and non-neovascular age-related macular degeneration (AMD), as well as less common forms of non-age-related macular degeneration