« zurück zur Übersicht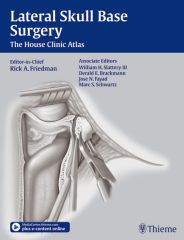 Friedman, Rick A.; Slattery III, William H.; Brackmann, Derald E.:


Lateral Skull Base Surgery:

The House Clinic Atlas

Preis: 119,99 Euro
Auflage: 1. Aufl.
Verlag: Thieme Medical Publishers /KNO VA
Erscheinungsdatum: 06/2012
Seiten: ca. 176 S., 192 Ill. - 21,6 x 28,0 cm

ISBN-10: 1-60406-764-0
ISBN-13: 978-1-60406-764-4

» In den Warenkorb
Weitere Fachbücher aus dem Fachgebiet:
Beschreibung
Written by leading skull base surgeons from the renowned House Clinic in Los Angeles, California, Lateral Skull Base Surgery: The House Clinic Atlas is a much-needed reference that contains detailed descriptions of the techniques used in lateral skull base surgery.
Vorteile
This atlas covers topics ranging from auditory brainstem implants to vestibular schwannoma, providing readers with a comprehensive overview of surgical procedures and techniques used to treat a variety of skull base diseases.
Special Features:
#The accompanying DVD contains 8 surgical videos of the most common techniques presented in the book
#More than 180 high-quality illustrations depict step-by-step surgical procedures
#Every chapter is informed with the expertise of House Clinic skull base surgeons

This atlas offers insights and expertise from some of the most respected surgeons in the world and is an essential resource for otolaryngologists#head and neck surgeons, neurosurgeons, and fellows preparing for and performing lateral skull base surgery as well as other physicians interested in this growing specialty.