« zurück zur Übersicht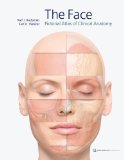 Radlanski, Ralf; Wesker, Karl H.:


The Face

Pictorial Atlas of Clinical Anatomy
2nd. ed. 6/2015 unter 9781850972891

Preis: 148,00 Euro
Auflage: 1st. ed.
Verlag: Quintessenz
Erscheinungsdatum: 01/2013
Seiten: ca. 360 pp.
Abbildungen: ca. 380 ills.

ISBN-10: 1-85097-214-1
ISBN-13: 978-1-85097-214-3

Titel leider nicht lieferbar
Weitere Fachbücher aus dem Fachgebiet:
Beschreibung
For the first time, the highly complex anatomical and topographic relationships of the face are represented through a comprehensive series of vivid, detailed illustrations. Because the authors use composite images of living models and anatomical dissection specimens as well as corresponding computed tomography and magnetic resonance imaging series, their illustrations capture three-dimensional detail and provide surprising clarity. Facial structures can be explored layer-by-layer, and significant landmarks, anatomical details, and clinically relevant groupings of nerves and blood vessels are taken into account to preserve clinical relevance.
Vorteile
In addition, the layers of the dissection are always seen from the same viewpoint, thus ensuring that a clear overall orientation is maintained throughout. Accompanying text and figure legends emphasize key points, but the focus is always on the anatomical images. Many illustrations are key to dental medicine, including sections on teeth; arch shape, occlusion, and articulation; the periodontium; vascular supply to the teeth and periodontium; innervation of the teeth and periodontium; the mandible; the chin; the TMJs; vascularization of the TMJs; and innervation of the TMJs.