« zurück zur Übersicht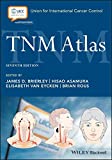 Wittekind, Christian; Asamura, H., Sobin, Leslie H.; Brierley, J.D. / Asamura, H. / van Eycken, E. / Rous, B.:


TNM Atlas

English Edition

Preis: ca. 89,90 Euro
Auflage: 7th. ed.
Verlag: Wiley
Erscheinungsdatum: 04/2021
Seiten: ca. 408 pp.
Abbildungen: ca. 300 ills.

ISBN-10: 1-119-26384-0
ISBN-13: 978-1-119-26384-5

Noch nicht erschienen
Lieferbar ab ca. 04/2021
» jetzt vorbestellen

Weitere Fachbücher aus dem Fachgebiet:
Beschreibung
A fully illustrated guide to the current TNM classification (8th Edition) and staging system

The Union for International Cancer Control's (UICC) TNM classification system is the most widely used cancer classification and staging system in the world. It is used to describe the anatomical extent of disease and is, therefore, essential to patient care, research and cancer control.
Vorteile
This seventh edition of the TNM Atlas provides health-care professionals with a detailed pictorial guide to the system, demonstrating its practical application via clear, direct text and an array of full-color medical illustrations. The atlas features:


Specially produced content, created to reflect the most recent iteration of the TNM classification of malignant tumours, the 8th Edition
More than 300 full-color medical illustrations covering all anatomical sites of cancer involvement
Quick-reference material that is ideal for use in clinical and educational settings


The revised seventh edition of the TNM Atlas is a valuable resource for all medical, surgical, and radiation oncologists, anatomical and surgical pathologists, cancer registrars, oncology nurses, physician extenders, international cancer care centers and NGOs dedicated to cancer control.